I have so far been resistant to buying any more brightly colored or patterned skinny jeans, because I feel like they're such a trendy piece that they're bound to be out of style shortly, and look really dated. I already have
red
,
green
(that I sold to Aggie), and
gray polka dots
jeans, so what other color/print could I possibly want? However, I tried the J. Crew Liberty of London jeans on last time I was in the store, and they fit beautifully, and now they're on sale. Queue indecision.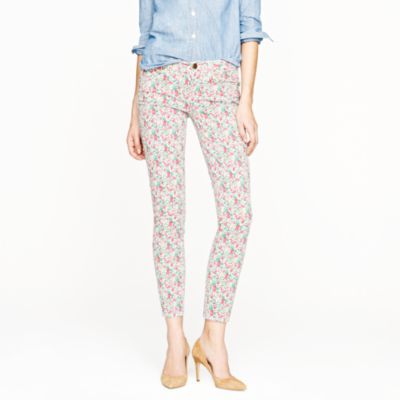 I also was kind of swayed after seeing how Gayle styled them in the look book, with an oxford shirt and updated puffer jean jacket. She just looks so good.
In my defense, I wasn't so interested in the Isabel Marant Aztec printe jeans.
Or those leopard print jeans that were popping up everywhere for a while.
It's just these Liberty jeans that I find so appealing. Steph thinks I should buy them while they're still in stock in the my size, because I can always return them. However, usually once cute clothing items enter my house, they don't end up getting returned.
Images via
1
,
2
,
3
,
4
.